For your own safety...
Una amiga envió por e-mail esta imagen tomada en el metro de Londres (The Tube).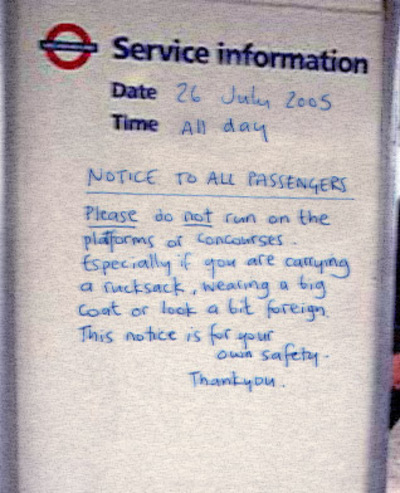 Transcribo el texto (en inglés), por si acaso no se lee bien:
Date 26 July 2005
Time All Day

Notice to all passengers

Please do not run on the platforms or concourses.
Especially if you are carrying a rucksack, wearing a big coat or look a bit foreign.
This notice is for your own safety.

Thank you

Que considerados son estos ingleses, ¿no?
Actualización: Efectivamente, tal como lo indica el amigo giftzahn, la imágen es falsa (fake). La imágen original es esta y en este thread del foro de Museum of hoaxes está reportado.
vemeko | 12/08/2005 - 11:46 AM | Varios